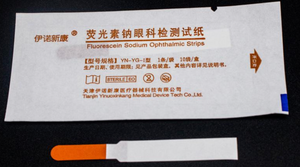 Fluorescein Sodium Ophthalmic Strips
Most commonly used diagnostic strip to visualize defects or abrasions in the corneal epithelium by staining the areas of cellular loss. 
Product Description 
Fluorescein Sodium Ophthalmic Strips 
10/box,1/pouch, 10pouch/box
Indications 
Useful for evaluating hard contact lens fitting Applanation tonometry
Evaluating tear film breakup time
To visualise defects in the corneal epithelium 
Specifications 

Available as sterile strips in individual pouches
Each strip is impregnated with 1.0 mg of Fluorescein sodium 
Innovative peel open packing with transparent film on one side

Instructions for Use 
To ensure full fluorescence and patient comfort, the Fluorescein Sodium impregnated tip should be moistened before application.

One or two drops of sterile irrigating or saline solution should be used for this purpose.

Touch conjunctiva or fornix as required with moistened tip.

It is recommended that the patient blink several times after application.