For superficial, deep cornea ulcers and/or infections in small animals; 
150~300microns, in anterior superficial lamellar keratoplasty for non-penetrating cases;
350~400microns, in posterior deep lamellar keratoplasty for Descemetocele cases; 
450-500microns, in penetrating cases.
Diameters: 10/12mm.
Storage and Transportation:
Room temperature, in refrigerator (2-8 degrees Celsius)is better.
Shelf Life: 18 months.
One unit per one box.
PetsEyes BioCorneaVet is a kind of Decellularized Porcine Corneal Xenografts, specifically developed and designed in the use of veterinary ophthalmology. This graft preserves the complex features that are essential to corneal function, including light transparency, resistance to ultraviolet light, insensitivity to photons and good tensile strength. And the decellularized methods used in the preparation of the graft maximize the elimination of cellular components and nuclear materials, while preserving the extracellular matrix(ECM) proteins and mechanical properties. The porous scaffold structure is an ideal platform for the ingrowth of nerve and vessels as well as the repopulation of host cells like keratocytes and epithelial cells. 
This graft is indicated for the treatment of corneal diseases, ulcerations, descemetocele, perforations, feline corneal sequestrum, and trauma where pharmaceutical interventions and/or temporary ocular bandage coverage have failed or are of no use.
In order to successfully use this graft in veterinary ophthalmology, there are a handful of key points needed to be paid attentions. 
a. The rehydration time shall be strictly limited within 10-20 seconds, no longer than 30 seconds. And avoid frequent flushing during the suture to prevent the graft from the extra edema.
b. The post-op use of contact lens is recommended to promote the completion of re-epithelialization. 
c. The re-epithelialization time shall be 3-10 days, no longer than 14 days and should be closely observed that is the most key factor for the survival of the graft after the transplantation.  
d. The full healing duration for lamellar keratoplasty is approximately 8 weeks, and 12-16 weeks for deep lamellar or penetrating keratoplasty. 
e. The graft would be gradually a portion of the recipient's cornea and gradually restore its original thickness with the recession of the newly developed hyper-vascular tissues that commonly occurs from the 4th week post-operatively. 
f. The fully restoration of the recipient's corneal transparency would be achieved for lamellar keratoplasty like most feline sequestrum that is the most significant value for this graft, while the preservation of the recipient's eyeball would be realized for those who are suffered from the descemetocelle or fully penetration injuries and administered penetrating keratoplasty.
Lamellar keratoplasty healing scheme in feline sequestrum in 8 weeks
Full-thickness penetrating keratoplasty healing scheme in dog corneal penetration injuries with severe infections in 8 weeks approximately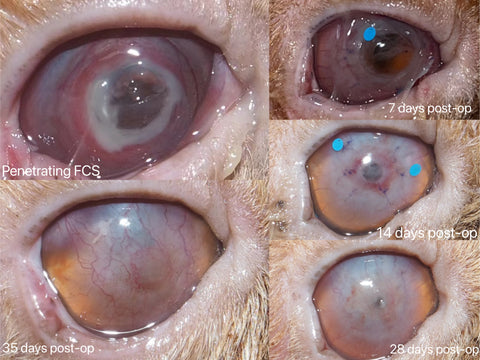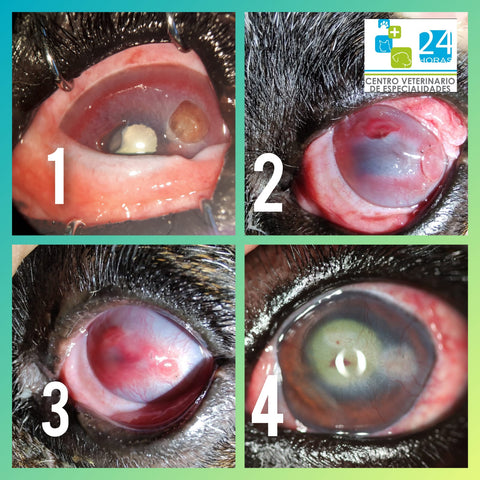 1. Lavaud A, Kowalska ME, Voelter K, Pot SA, Rampazzo A. Penetrating Keratoplasty in Dogs using Acellular Porcine Corneal Stroma (BioCorneaVetTM): A prospective pilot study of five cases. Vet Ophthalmol. 2021;00:1–11. https:// doi.org/10.1111/vop.12884
2. Santillo D, Mathieson I, Corsi F, Göllner R, Guandalini A. The use of acellular porcine corneal stroma xenograft (BioCorneaVetTM) for the treatment of deep stromal and full thickness corneal defects: A retrospective study of 40 cases (2019–2021). Vet Ophthalmol. 2021;00:1–15. https://doi.org/10.1111/vop.12927 
3. Xu, H.; Sapienza, J.S.; Jin, Y.; Lin, J.; Zheng, X.; Dong, H.; Diao, H.; Zhao, Y.; Gao, J.; Tang, J.; et al. Lamellar Keratoplasty Using Acellular Bioengineering Cornea (BioCorneaVetTM) for the Treatment of Feline Corneal Sequestrum: A Retrospective Study of 62 Eyes (2018–2021). Animals 2022, 12, 1016. https://doi.org/10.3390/ani12081016